the Dark Ages Re-creation Company
Central Ontario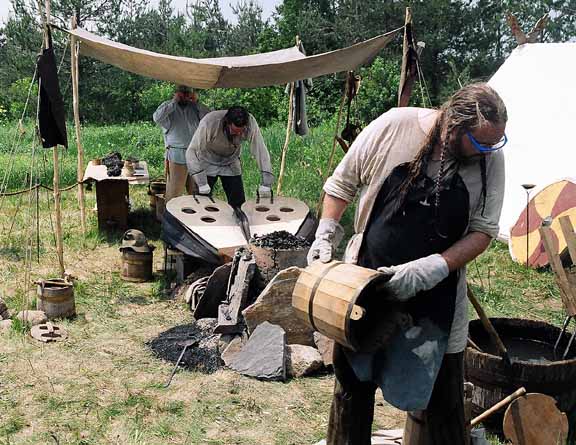 " The

Dark Ages Re-creation Company

is composed of people interested in using living history to research aspects of life in Northern Europe during the Viking Age. This is accomplished through workshops and experimental archaeology where the focus is on developing traditional skills as we create accurate replicas of period artefacts and processes. ... The Company further strives to provide a resource of skilled and experienced historic interpreters and physical demonstrators to museums, schools, and educational programs."
"DARC's
Experimental Iron smelting
is based on archaeological evidence, and are targeted to recreate the techniques the Viking Era Norse used to smelt iron. ... Our goal is to get a method that first reliably produces iron, and second uses equipment that would have been available historically, and third that matches the archaeological record that we have with regards to blooms produced, smelter and surrounding area layout, and materials."
The link between iron smelting and the Viking Age lies in the fact that the first documented iron production in North America was by the Norse at L'Anse aux Meadows Newfoundland (Vinland) circa 1000 AD. Team members from DARC have demonstrated both historic and practical modern methods for smelting iron before the blacksmithing community : at
CanIRON 5
(2005, Annapolis Royal Nova Scotia) and at Quad State (2008, Troy Ohio)
(
above
June 2005 - An early experiment with all Viking Age equipments
image by Neil Peterson )
May 2005 - Taping slag from a firebrick furnace.
image by Neil Peterson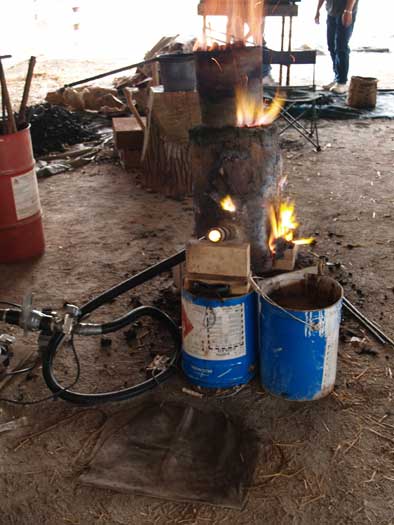 At Quad State - View of a simple clay smelting furnace in operation.
image by Darrell Markewitz

November 2009 - starting to hammer work the hot bloom
image by Darrell Markewitz
DARC maintains considerable information on its ongoing research work on the web, including its
experimental iron smelting
.
Further information on DARK's work is also to be found on the
web site
of Darrell Markewitz, which includes YouTube clips as well.